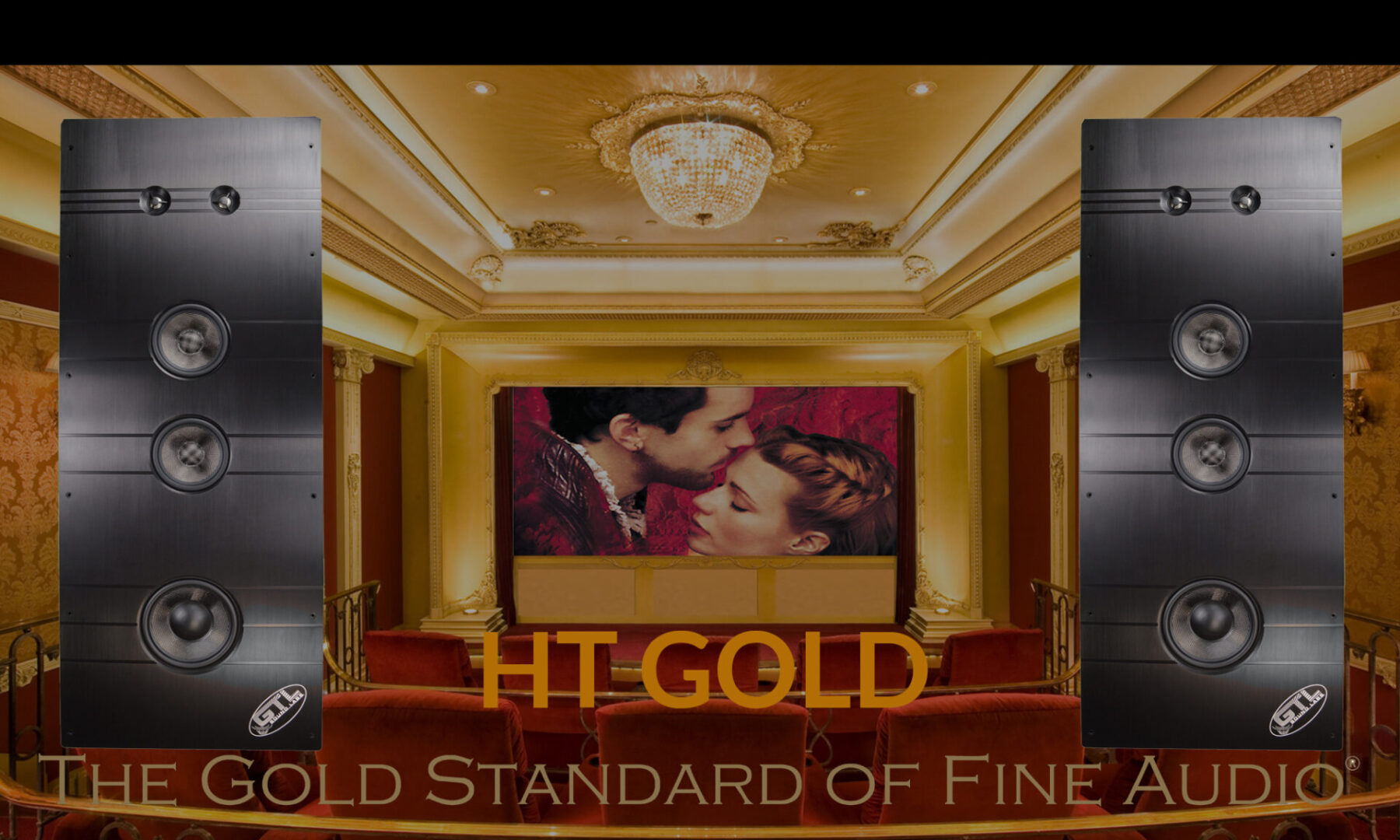 Our Finest Brushed Aluminum LCR
Hidden In-Wall Home Theater Speaker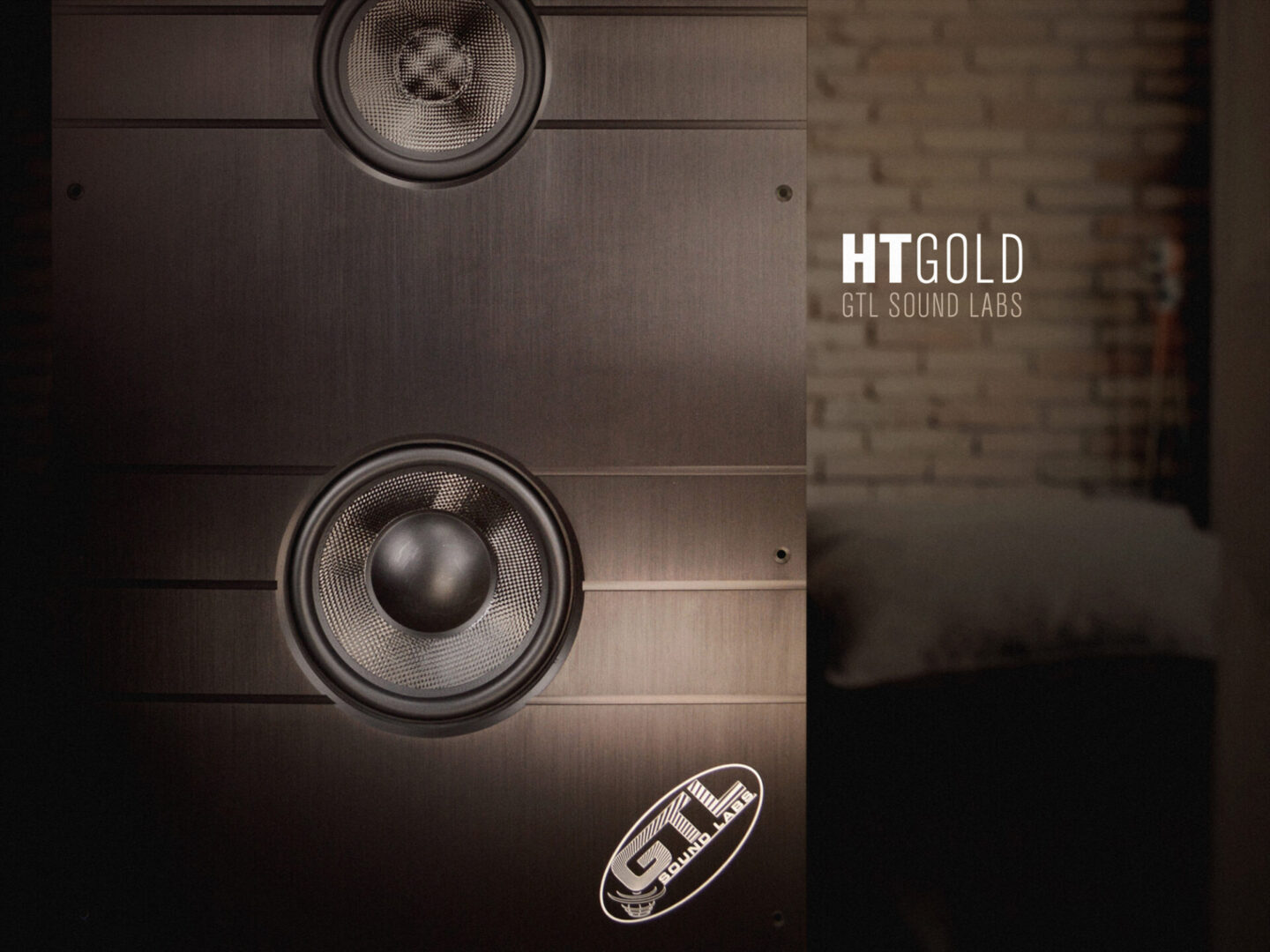 GTL Sound Labs HT Gold in-wall speaker is a powerful combination of high performance and craftsmanship, while maintaining a similar performance to high-end floor models, by using GTL's patented "Resounding Chamber Technology" which delivers 96% sound out of the front of the speaker and sends 4% to loss. The precision CNC-cut 1/4" thick black brushed aluminum faced unit is attached to a full-enclosed MDF deep backbox. The unit is 48" tall by 19" wide and weighs 74 pounds with full rubber gasket for mounting with 12 screws.
The HT Gold, like all GTL Sound Labs loudspeakers produced over the last 15-years, utilize very large sized driver magnets made with Y35 Strontium Barium high-strength material and signature woven carbon fiber cones, which produces exceptional dynamic range, truly accurate detail, and rich smooth deep-reaching bass with truly superb roll-off. This magnet structure provides the least magnetic field distortion. To complete the sound field, we use a pair of GTL proprietary silk-dome tweeters that reproduce unsurpassed high frequency detail without the sharpness commonly associated with beryllium tweeters.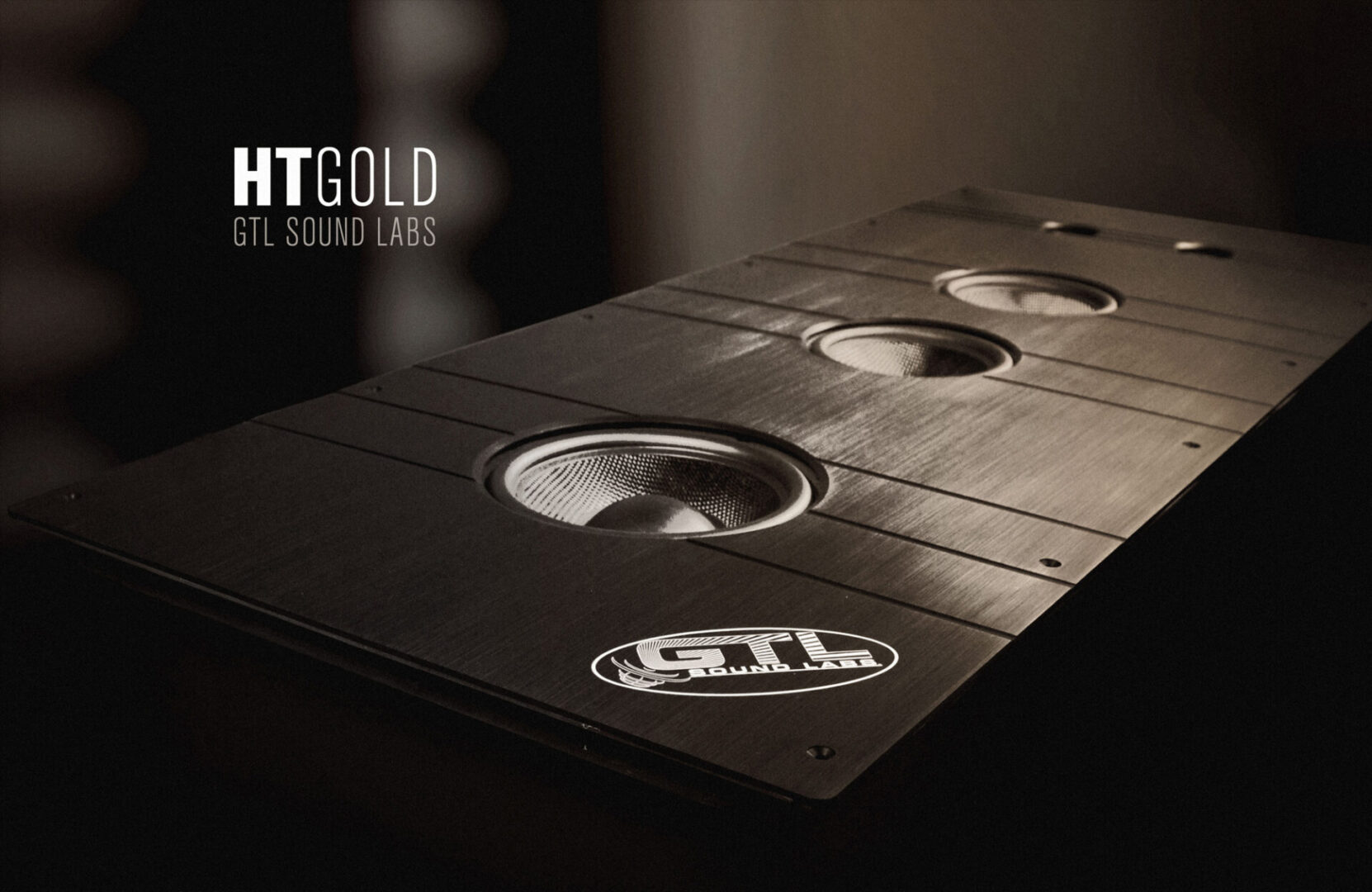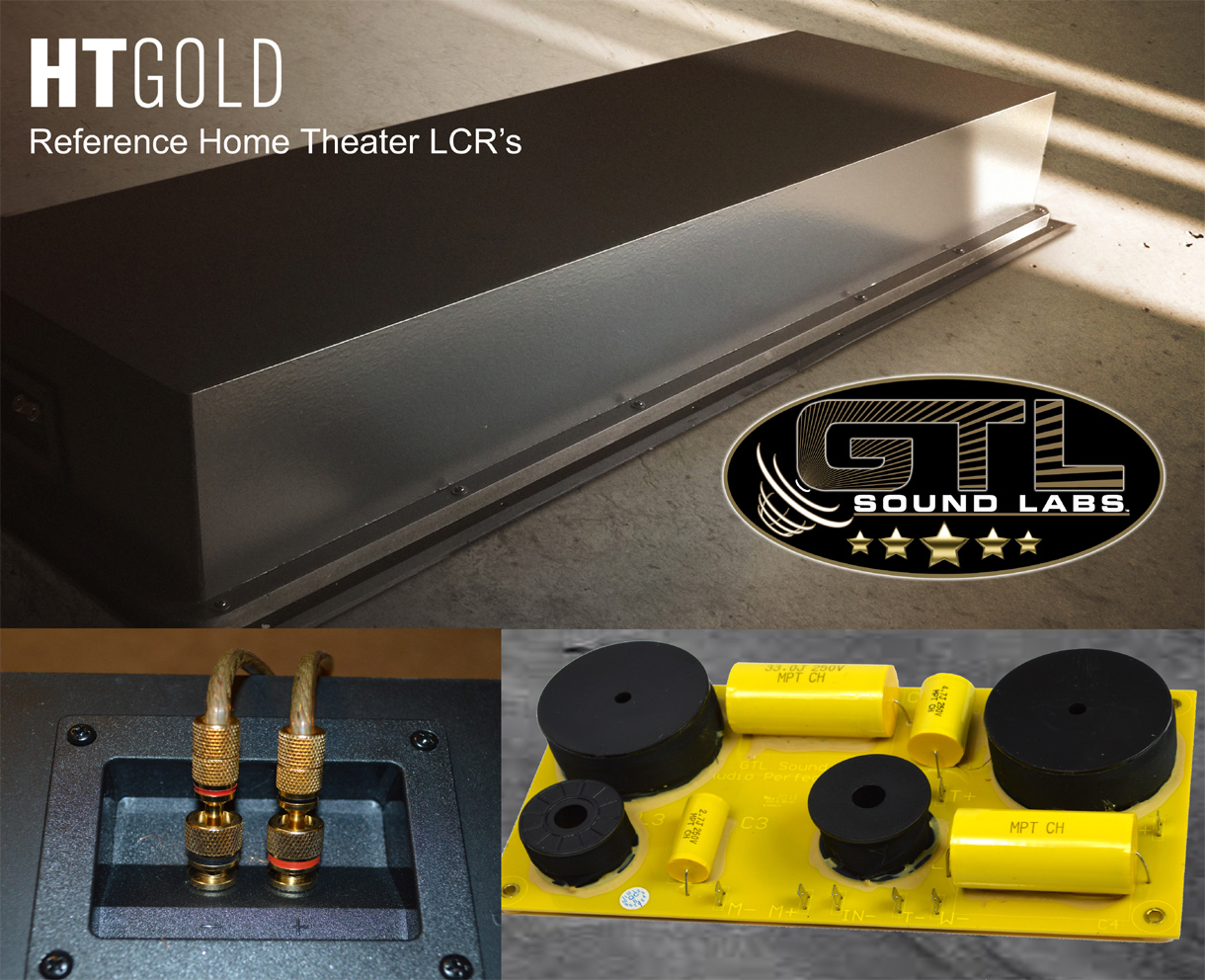 What sets GTL apart is their engineering and design of their crossover using only the finest components, nominally only found in units 4-times their cost. The highest quality crossover is the heart of all high end speaker and without it sound falls short even if better drivers are used.
Incorporating all of these features makes for the finest dress out home theater speakers available for installation behind micro-bead screens.. For 40-plus years GTL has earned the reputation as "The Gold Standard of Fine Audio"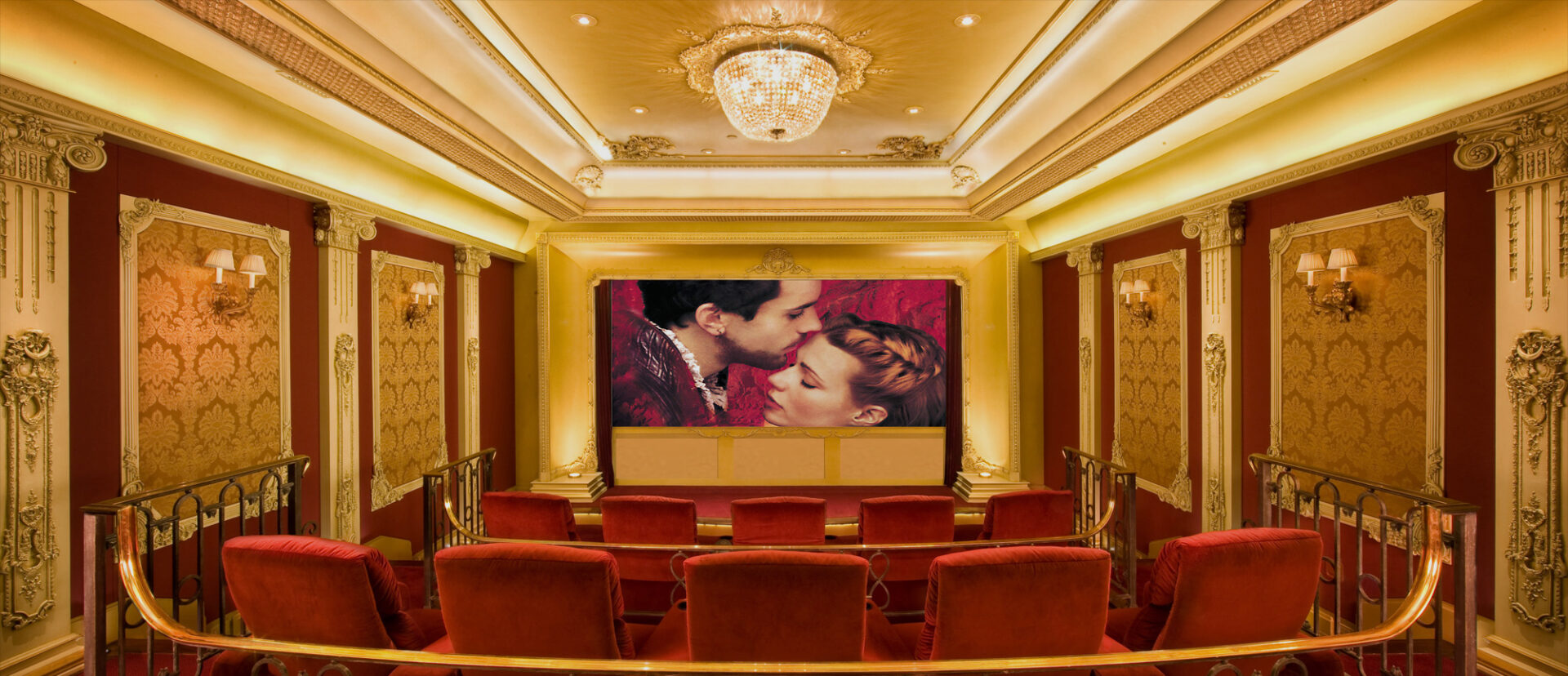 Installed 3 – HT Gold LCR's, 4 - HT Bronze Sides,  2 - HT Bronze Rears & 2 - SB 15 SHOV Subs and 2 - SB 12 SHOV Subs
Recommended Power: 50 to 300 watts
Normal Impedance: 8 Ohms, Sensitivity: 92dB (2.83V at 1 meter)
Frequency Response: 30Hz – 20kHz (+/- 3dB), Crossover: 600Hz, 3kHz; 12 dB/Octave
Low Frequency Transducer: 9″ Woven Carbon Fiber Woofer with Butyl with rubber surrounds 2″ VC and 40oz vented magnet
Mid Frequency Transducer: 2 - 6.5" Woven Carbon Fiber Woofer with Butyl with rubber surround 1.5″ Voice Coil and 29oz vented magnet
High Frequency Transducer: 2 - 3″ Pure Titanium Silk Dome Tweeter with 1″ Voice Coil and 12.7oz magnet
Damping: 1" Lamb's Wool & Poly Fiber, Construction: 1/4" Brushed Aluminum fascia, 3/4" MDF back box, Gold Plated Terminals
Overall Dimensions: 19″ W x 48″ H x 7″ D, Cutout Dimensions: 16 7/8" W x 47 5/8" H
Grills: Not included. Custom made grills can be made at additional cost
Weight: 74 lbs each, 82 lbs SW, Warranty: 3 Years,
MSRP: $5,500 USD Each