Dedicated Team of Sound Professionals
The History of Our Company
GTL Sound Labs was established in 1976 as Audio Excellence of the Carolinas by Gary T. Little. We initially started as contract design engineering for large high-end speaker manufactures on the component level for drives, voice coils, and crossover networks. In 1980, we started designing and building custom two-channel loudspeakers for the elite who could afforded them and wanted it completely correct.
In 1982, we developed the first multi-magnet, live coil woofer. This driver offered unsurpassed bass response and power handling. This was the heart of our two-channel speakers for 15 plus years.  By 1986, we had produced the first production woofer using woven carbon fiber and this is still the heart of most all of our Home Theater and Listening Room speakers.
In 2005, our founder Gary Little patented the resounding chamber technology used in our new Audio Excellence AE 963 in-wall speaker. This innovation, coupled with our history of more than 30 years building the finest custom speakers, led us to create our new line of audiophile architectural ABS speakers, called the Audio Excellence Series. We are very proud to be able to offer the Audio Excellence Series at reasonable prices. These have the superior sound quality that was previously only available to a select few wealthy customers.
In 2008, the company was renamed "GTL Sound Labs" when the company went global adding distributors for sales in China, Malaysia, India, and the United Kingdom.
In 2010, we launched our complete line of pre-engineered home theater speakers, called the Audio Perfection Series. These models allowed for integrators to have custom-built quality at fraction of truly custom speakers. Though still not cheap but exceed our biggest competitors sound quality at a much lower cost. We are very proud to offer the very best. We have truly earned "The Gold Standard of Fine Audio."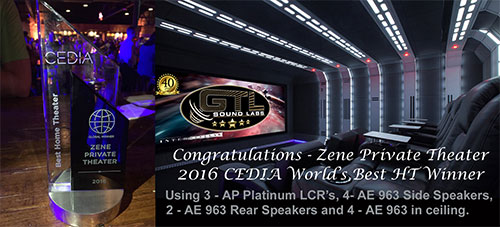 We aim to continue making the finest-sounding, best-quality, and longest-lasting speakers to enrich our customers' lives.
A Message from Our President
Hello, and thank you for your interest. I am Gary T. Little, president and founder of GTL Sound Labs. We have always strived to sell only the best while keeping our pricing fair and reasonable. Because of my pledge to build and sell only the finest speakers, we have never had a returned speaker for sound quality. Over the past few years, all of the other high-end manufactures have reduced quality or created cheaper lines with sub-standard components and sound quality. Here at GTL Sound Labs, we have decided to continue to adhere to my original pledge to only build the finest sounding speakers at very reasonable prices. For this reason, 92% of our speakers are still in use! This is why you don't see used speakers from GTL Sound Labs for sale.
We have been designing and building from the component level up for over forty years, and we have been doing descent placement speakers before just about anyone else. Today, there is a lot of talk about this type of speaker placement, but we have the years of true experience in designing for this purpose and do it right. When looking for this, you should first look to the sound quality and not the look of the product. This way, you get the best sound, and since it's not seen, this is what matters. But, we will be glad to quote any special finish or style speaker for display placement.
All of our Audio Excellence speakers are very easy to install and come with templates, for our do it yourself clients. From a 5.1 living room to full dressed theater, we have what you need, at fraction of our biggest competitors.  We are here to help with any of your speaker needs.