Unsurpassed Home Theater and Two-Channel Listening Speakers
The Gold Standard of Fine Audio®
Finest-Quality Speakers for Our Home Theater or Listening Room
Pre-Engineered or Custom for Your Room
For the last 45 years, GTL Sound Labs in Charlotte, NC has been offering the finest custom-built speakers. In 1999, we also started to design/provide pre-engineered multi-award-winning, architectural reference in-wall and in-ceiling speakers. With our many years of speaker components' design and speaker sound engineering, our speakers will bring your home entertainment experience to the highest level.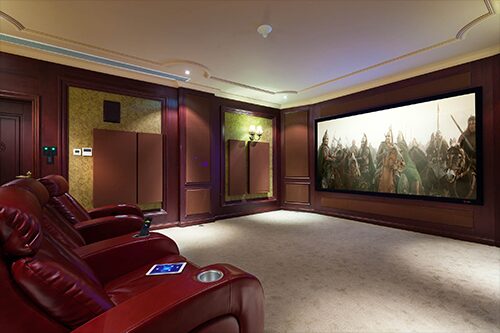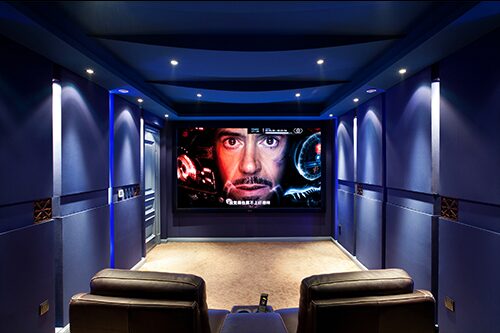 Driven by our passion for pure, clean, and superior sound, and our unwavering promise to design and supply only the finest speakers has never changed. Our speakers are of our own design using our proprietary components and the finest crossovers. Ninety percent of our speakers are still in use! That's why you hardly never see any used GTL Sound Labs speakers for sale. When you get the best, you have no reason to replace or upgrade.
The GTL AP Platinum LCR speakers are the best speakers made period. Their construction is solid, impressive, and is focused on every aspect of detail. Their corner joints are mitered and they are covered in a beautiful 5-layer matte black finish. Beyond their appearance the audio quality is absolutely stunning. Their soundstage is impressive, accurate, and very rich with every detail of sound captured and re-produced. These speakers are a huge complement to any home theater or 2 channel audio system. The crossovers are impressive and their frequency roll-off is repeatable and accurate. Since I was introduced to Mr. Gary Little of GTL Sound Labs several years ago his company's speakers are the only speaker brand that you will find in my home and that includes a 2-channel audio system as well as a dedicated home theater. I am an electrical engineer and If you are looking for a great speaker at a very reasonable price this is your speaker no doubt.
Jim Johnston
Audiophile in Corpus Christi. Texas
Gary you and your team, truly know what you are doing. I want to thank you for the great job of designing my speakers for my previewing room. When I received your proposal, I was very skeptical because the price was about one half of all the other quotes. At your request I contacted three other of your custom clients and ask their option. Everyone gave your company their highest praise, so decided to accept your proposal and now have the very finest sounding viewing room. As you know the project was for a large room (30' by 60') with 9-degree floor and 12-foot ceilings, that due to your design work required very little damping or panels. This saved a huge amount and stream lined the look. I could not be more pleased. I am sure this room will be the center piece of making sure we got it right on my movies. Thanks again for the great work.
Tony Scott
Director Malibu, CA
I love my custom home theater speakers. It sounds far better than any commercial movie theater. The clarity and sound accuracy are dead on. While in 2 channel mode, listening to my recordings, they sounded better than they did in the studio. The detail to audio perfection is nothing short of amazing. Thank you for your fine product.
Tony Bennett
Long Island, NY
The speakers are wonderful. I have never heard a nicer pair, as you know I have been around a great many. When the first pair was crushed in shipping, I was afraid I would have to wait 2 months for them to be reshipped. Your 48-hour turn around rebuild on these custom speakers truly shows your commitment to 100% customer satisfaction.
Peter Jennings
New York, NY
The AE 963's made my McIntosh Equipment come alive. I am hearing sounds and layers that I did not know were on the tracks. These speakers are truly the finest. All it takes is just one listen and you will know for yourself! Thanks for a great product.
William J Airufatt
Dearborn, MI
Your Audio Excellence AE963 are unbelievable!! I installed them in my listening room and removed my floor speakers, which made my wife happy. The imagery and clarity far exceeded my wildest dreams. I never thought that an in-wall could sound so good. GTL Sound Labs Speaker the best!
Paul Jones
Palm Desert, CA
Your AE 963 home theater package (2 pairs & CC) I purchased was everything I had hoped they would be and more. I could not be more pleased! These audiophile speakers gave me a real bonus by allowing my Home Theater to be used as a listening room for my large classical and jazz collection. The sound quality really is wonderful!
Sam Elliot
Bar Harbor, ME
I have traveled all over the country to the finest jazz clubs and can truly say with my new AE 963 In-Walls when I close my eyes, I feel like I can touch the live artist. I love your speakers! Thanks for a great product.
Luther Jones
New Orleans, LA
As a sound engineer, I must state that your AE963 are the finest ABS in wall I have ever heard and are aesthetically pleasing as well. The speakers are heavy and very well constructed. I am very proud and pleased to have them in my home. Your product is appley named.
John Lithfordson
Nashville, TN
Man, we love your ceiling speakers! Our clients can turn them up and sound is amazing. All others I have tried are weak and tinny with distortion if you put any volume to them. The Best sounding in-ceiling we have installed, ever!
Sandy Jones
Elite Custom Homes Charlotte, NC
I installed 12 pairs of the AE 82's in my new home for whole house audio. The sound far exceeded my expectations. They have a very solid and clear bass and excellent mid's and smooth high end. I would highly recommend these for whole house.
Gary Jones
Austin, TX
I installed five of the AE 653 speakers in my small home for 5.1 sound. They had incredible sound quality and where every better than I had hoped for. Incredible product for the money.
Bill Smith
Tucker, GA
We are a custom installation company and we only install these speakers. They have incredible sound quality and will give you more bang for the buck than any other speaker out there at this price range. They are extremely high quality and all of our clients are thoroughly impressed with them. Highly recommend.
Smart Home Now
Charlotte, NC
Thank you for making my dream home theater system a great success. I have dream of this for many of years. The speakers you built for me are head and shoulders over my old Martin Logan Speakers. They really bring out the quality in my Krell HT processor. I now have the best sounding system I or any of my friends have heard! All I can say is A+++++
Edward Strickland
Palm Desert, CA
I just had to write and tell you that the sets of speakers you built for me are wonderful!! When my husband told me, he had gotten speakers for my birthday I was not a happy camper. We got the home theater setup with them, and I must say we now have the finest system I have ever heard. I'm a huge movie buff and love to be enveloped in proper sound. These are second to none! All my friend now what to come over for movie time. Thank you for convincing my husband to get them.
Eileen Kelley
Ormond Beach, FL
I just want to write and tell you now impressed I am with my new custom speakers. The clarity and imaging are, excellent, far exceeding any speakers I have had before. I must admit when I got my proposal, I was afraid you had spec'd a speaker for a band not a home, but as I stated they are great. My listening room is 14' x 26' with 3 chairs. From any of them with soundstage is dead on. I can't say enough how happy I am with the GTL Sound Labs speakers. Thanks again
Sandra Lee
Scottsdale, AZ
Thank you, thank you. You may have saved my marriage!! I loved my B&W 802D's my wife did not!! She wanted in wall speakers, but I had to have excellent sound. When you told me, I could install your Audio Perfection In-Walls and have as good of sound than my old speakers, I did not believe you. Your 100% sound guarantee convinced me to get them and boy where you right!! You named your speakers right Audio Perfection!!! My old speakers are gone without tears! After hearing these I will be installing the GTL brand speakers in my upcoming HT. Again, thank you for an excellent product that lives up to its name. (Custom)
Oliver Davis
Denver, CO
We are a custom electronics integration company and we do a lot of house theaters. These are the go-to product for any high-quality theater. They have replaced more far more expensive speakers that we used to work with because GTL's sound quality as superior to anything else we've experienced. You will be thrilled with any of the GTL Sound Labs speakers you purchase. HIGHLY RECOMMEND All of them!!!
Kimberly Amstar
Martha's Vineyard
I never thought in wall could sound so good. I purchased the AE 963 just knowing I would be your first customer to return them because I am so picky. But they were everything you said. You saved me tens of thousands of dollars over the McIntosh WS-350 I was going to buy and give me much better speakers. When we build your theater later, we will be installing your speakers. Again, thank you and I have been telling my friends about your company.
Tom Bridges
Long Island NY
I installed these speakers while doing a home renovation. You can purchase something cheaper however, you will be disappointed. You WILL NOT be disappointed in these speakers. Everyone who comes into my house compliments on the incredible sound. If you want the very best, the GTL Sound Labs AE 963 are it!
Matthew Burton
Lake Junaluska, NC
In my old house I have Martin Logan Center Channel and McIntosh WS350 In-wall speakers. I purchased your AE 963 Home Theater Package for my new home and it is superior by far. Everyone who comes over is blown away with how wonderful it sounds. The AE 653 sides and rears actually sound better than my old LCR's! Thank you for dedication to Audio Excellence.
Eugene J Hale
Beverly Hills, CA
I did extensive research/auditioning of others, including Sonance, Martin Logan, B & W, and more. I took a chance on these speakers, even though I was unable to audition them. I spoke to Gary personally- he was extremely informative and accommodating. I am EXTREMELY happy with the quality. The sound is nothing short of amazing. For the price, you won't find anything better! I absolutely couldn't be happier with this purchase and the speakers were even way beyond my expectations.
Steve McLaughlin
Anthem, AZ